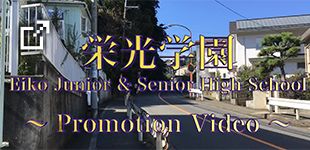 April to NovemberSummer hoursApril to November
December to MarchWinter hoursDecember to March
8:15AM
8:45AM
Attendance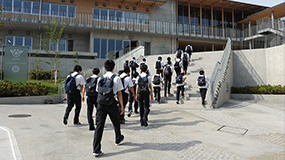 The school is a 15-minute walk from JR Ofuna Station. There is one hilly stretch, but generally students walk to school.
8:20AM
8:50AM
Morning assembly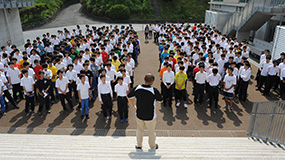 Each day starts with morning assembly, held in classrooms or on the athletics field. Morning assemblies on the athletics field are used on special occasions, such as when listening to numerous teachers recount their experiences.
8:30AM
to
10:20AM
9:00AM
to
10:40AM
First and second period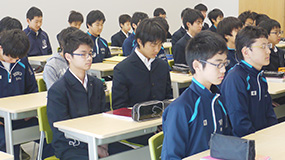 Lessons at Eiko Gakuen begin and end with one silent minute with eyes closed. Students use this minute of silence to prepare mentally for the lesson ahead and to reflect on the lesson just learned.
10:20AM
to
10:35AM
10:40AM
to
10:55AM
Midmorning Exercise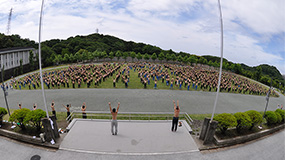 Except on rainy days, a short midmorning exercise session is held every day between the second and third period. Regardless of season, students take in the direct sunlight and get some exercise on the athletics field.
10:35AM
to
12:25
10:55AM
to
0:35PM
Third and fourth period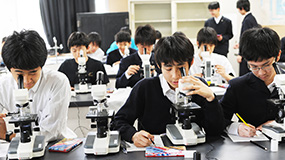 Lessons are fifty minutes long (45 minutes in winter).
0:25PM
to
1:15PM
0:35PM
to
1:25PM
Lunch hour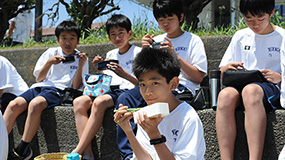 In principle, students bring their own box lunches. Bringing one's own lunch every day has an important educational effect. However, students can purchase bread, drinks, etc. at the school.
1:15PM
to
3:05PM
1:25PM
to
3:05PM
Fifth and sixth period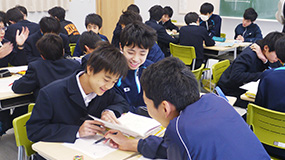 Lessons are fifty minutes long (45 minutes in winter).
Cleanup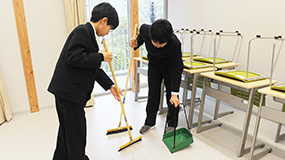 All students take part in a thorough cleaning of the school.
This includes cleaning the washrooms.
Lessons finish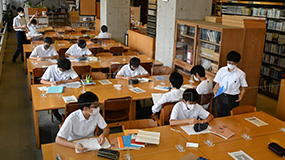 Some students do club and sports activities twice a week, while others use the study hall or the library for studying after classes finish. Students use and enjoy their after-school time to the fullest.